Reading Room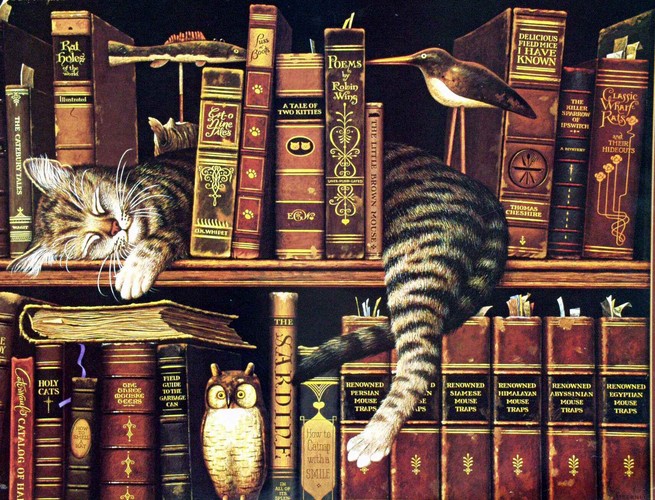 I have always loved reading. When I was growing up, my mom was always fussing at me to put the book down and go outside and play instead (or come to the dinner table or go do chores). I was one of those kids who would "go to bed" only to read away half the night. When I was about 12 or so I read Madeleine L'Engle's "Wrinkle in Time" and then Anne McCaffrey's "Dragonsong" (the first book in her Harper Hall series) and those books ignited a love of fantasy and science fiction.
I do a lot of my reading these days on a Kindle - I have a Kindle Keyboard and a Kindle DX. I love my Keyboard - the small size, the physical page buttons. The only thing it's lacking is a light. I have looked at some more current e-reader options but for now the Keyboard works and I'm not inclined to spend money to upgrade. I could be spending that money on books! I really like the DX, too, but he's a chonky boi and not as portable as the Keyboard.





I own actual books, too. I used to be like a miser hoarding his gold when it came to books. I kept everything! I usually read fairly quickly so that meant I had a LOT of books. Now I've pruned through my collection and I try to only keep books that are really special. Maybe it's a series I enjoy rereading, or a set of books that would be hard to replace. Or it's special because someone gave it to me.
I started keeping reading logs a couple years ago, just for fun. I recently found out that there are cross-stitch trackers to track your reading and now I want to do that! Gotta read the books first, so this is a project for next year.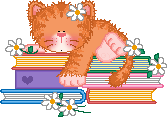 2023 Reading Log

Clearly this year, so far, my reading has been sporadic. Sometimes I'll find a series that I just love and dive into it (the Penric series by Lois McMaster Bujold, the Bob McGough books, the Kate Elliot series) and sometimes I get in book slumps where nothing really appeals. I'm always reading - just not always a book! I subscribe to my local newspaper and read that daily, and I read a lot of stuff online.

January

Tiamat's Wrath (James S. A. Corey)
Leviathan Falls (James S. A. Corey)
Under the Whispering Door (T.J. Klune)
Remnant Population (Elizabeth Moon)
The Rain Heron (Robbie Arnott)
The Facemaker (Lindsey Fitzharris)
Wildwood Dancing (Juliet Marillier)
How the Garcia Girls Lost Their Accents (Julia Alvarez)
Penric's Demon (Lois McMaster Bujold)

February

Kismet (Watts Martin)
The Girl Who Fell Beneath the Sea (Axie Oh)

March

Tress of the Emerald Sea (Brandon Sanderson)
Cookie Calamity (Cindy Stark)
Bringing Home the Rain (Bob McGough)
The Depth of the Water (Bob McGough)
Feet in the Fire (Bob McGough)
Praying the Day's Not Poison (Bob McGough)
Walking the Darkness Down (Bob McGough)
Penric and the Shaman (Lois McMaster Bujold)

April

Masquerade in Lodi (Lois McMaster Bujold)
Raven Unveiled (Grace Draven)
Penric's Mission (Lois McMaster Bujold)
Mira's Last Dance (Lois McMaster Bujold)
The Orphans of Raspay (Lois McMaster Bujold)
The Prisoner of Limnos (Lois McMaster Bujold)
Penric's Fox (Lois McMaster Bujold)
The Physicians of Vilnoc (Lois McMaster Bujold)
The Assassins of Thassalon (Lois McMaster Bujold)
Knot of Shadows (Lois McMaster Bujold)
Dead Station (Aaron Beardsell)

May

Sourdough and Other Stories (Angela Slatter)
Beguilement (Lois McMaster Bujold)

June

The Witch and the Tsar (Olesya Salnikova Gilmore)
The Sisters of the Winter Wood (Rena Rossner)
Desperate Undertaking (Lindsey Davis)

July

King's Dragon (Kate Elliot)
Prince of Dogs (Kate Elliot)
The Burning Stone (Kate Elliot)

August

Child of Flame (Kate Elliot)
Along Harrowed Trails (anthology - various authors)
A House With Good Bones (T. Kingfisher)
Thornhedge (T. Kingfisher)
The Widow (Mary Kingswood)
Calling the Devil Partner (Bob McGough)
Twice a Quinceañera (Yamile Said Mendez)
You can find all sorts of interesting reading on the web. There are lots of publications (Lightspeed, Clarkesworld, Uncanny Magazine to name just a few) that publish stories online, for free, with no need to sign up or in to anything. Here are some stories I enjoyed. I hope you do, too!
If your appetite has been whetted for finding more short form science fiction/fantasy then take a look at this list of online magazines/publishing sites that some enterprising netizen has created.